I used to have a cat, dog, bantam chicken, scorpion and gerbil before but now they're all just memories. My favourite choice of pet is dog because they're men's best friend, but since I spend most of my life living in government housings, I wasn't allowed to keep a dog as pet.
Another problem is that my mum doesn't like me to have a pet due to some health issues that they may cause. Both me and my mum have a sensitive nose (
allergies
).
She'll happily give away my pet to our relatives or her friends and only discovered that one of my mate has gone when I reached home (
you know how I felt
).
If you ever still remember, in the 90's, cyber-pet console was once a big hit. It was very famous that almost every kids in town has one, and I don't want to be left behind so I bought myself a cyber-dog. I was so excited, at last I have a "dog" of my own, I can play with it anytime and bring it anywhere I want!!!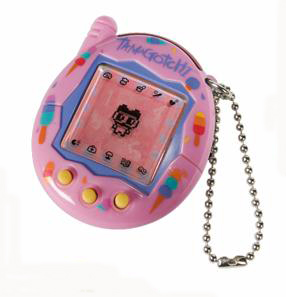 Photo courtesy of Thoughts from the Edge.
It was quite fun at first, I though I won't be lonely anymore but after a few months I realized that something was missing. The problem is that you can't create mutual relationship with a digitalized pet, which is the main reason why you keep a pet.
So it has been awhile I don't have a pet and I really love to have one. Last year I've bought 3 gerbils as a birthday present to my ex-girlfriend but then she decides me to keep it because she have a lot of cats - wasn't a good idea too because I didn't prepare a proper cage for them.
Anyway, it was my first experience having rodents as pet. I've already spent most of my money to buy them so I can't afford to buy a proper cage. With the lack of knowledge about their behaviour I put them into a plastic basket. This is when the "The Three Gerbils Prison Break" series begin.
So I borrowed my uncle's aquarium and used it as their new home. It just solved the problem for a few weeks until they found a new route to escape. It's the wire netting on top of the aquarium, they jump to the net at bit it off - they're gone again!!
Although I did found them, put the back into their cage, replaced the wire netting with a card box with holes, bought them threadmill to play but in the end destroying it which then I remove from their cage, they still managed to escape.
It was a bad experience for me, but I did learn a lot from them. They're so persistence on their escape, don't wanna be held "captive" and find a lot of way to solve their problem if one of their method failed. I think they did inspired me on my "escape from the engineering course".
I've learned from my past experience with the gerbils, so this time I've decided to adopt either hamster or guinea pig because they can't jump and doesn't have "bite-what-you-see" syndrome - I did my research.
So I went to Satok Night Market browsing for hamsters and guinea pigs. I thought of adopting a guinea pig at first but I didn't placed a book, it was sold out the next day when I came with cash. I didn't bring cash during the browsing session, this is to keep me out from the tendency of impulsive purchases.
Since there's no guinea pig breeder in Kuching, it was imported from Sarikei, I have no choice but to wait for the next batch and proceeds with my other option - to adopt hamster.
I decided to adopt the Panda Dwarf Hamster. It wasn't any ordinary hamster that you always see in the pet shop. Their size are much more smaller and they're way more cuter and adorable!!! I was informed that hamsters will be okay without a partner but I don't want it to be lonely so I bought a pair. In the same time having the thoughts of breeding the hamster.
I named them Mickey and Minnie. Welcome to the family.