Photo courtesy of bassiclines.blogspot.com

To be honest, I'm not the only one here. Well... We're all bunch of social network junkies. Whether it's the old Friendster, the most popular social network in the South-East Asia, or the musically bling bling MySpace, or the new Facebook application or whatever social network service you can find in the internet ~ which also includes... blogging.

Once upon a time, it was Friendster who's responsible sticking my ass on the chair in front of the PC most of the time. Checking and replying new messages, group's, profile's and picture's comments, new friend requests, birthday updates, checking out "Who's viewed You" and the most time consuming is the profile customization - I've spent approximately 3-4 hours grooming it ~ weekly. I also do help some of my friends grooming theirs. Which also mean, I spend more time on Friendster!!




Photo courtesy of thebatt.com

Then comes Facebook... Once was rejected by me but now I'm the one addicted to it. With its kick ass applications, I didn't realized that I'm stuck with it . The best part is its built-in chat application, you can chat with your online friends!!! Also with its real-time feed notifications, you'll be alerted with your friend's latest updates. How cool is that? I'm always "connected" with my real friends and also my virtual friends!!! WoW.... Yea, I do categorize my friends.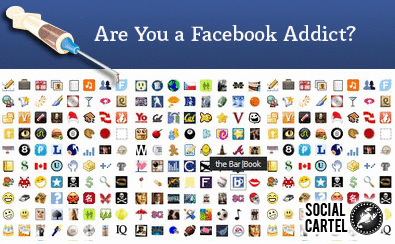 Photo courtesy of collective-thoughts.com

It is no suprise why Facebook is so bloody addictive. Facebook supports applications which interacts with ones online interests such as gaming, dating, music and quizzes. All of these are the core online activity for Facebook addicts ~ like me... and I'm more into gaming.

I've been playing quite a number of Facebook games such as Transformers, Heroes, Vampire and so on... But none compared to this game called Mafia Cities. Mafia Cities is developed by Kramaley Games Ltd. It has a massive amount of active players, with 61, 892 of active players and 83 out of 333 of my Facebook friends are playing this game and most of them are my virtual friends. About their gameplay, overall it is yet the best amongst any other games of its category eg. Mafia Wars, Gangster Battle, Mob Wars etc.



Mafia Cities is a Mafia-style combat game, picking up fights and build your businesses in 20 cities of available in this game. You may also join a Mafia family to aid you and your mob throughout the game. I'm very grateful that I've joined the most helpful family, the Commandos [C], which has trained and build me up throughout my days playing this game. Now I'm one of the Capo (Captain) of one of the family branch, Commandos []C[], controlling the city of Shanghai. What a great achievement yea? ;-)

CAUTION:
This game is very addictive that I play it everyday - even in the class while the lecturer is teaching. Most of my time is on this game, playing it day and night. Although I'm hard on it, I don't miss a chance to break up some sweat, going for outdoor activities and do sports.



Photo courtesy of corbis

Don't just sit there updating your Facebook, you lazy sod. Come on and join me stretching up. 1... 2... 3...

Here's video for you while you're stretching up. Cheers mate!!


Social Media Addiction by Poetic Prophet
Check out the lyrics at his blog